Darren Mills is our Private Clients department's new leader at Romero Insurance Brokers. Ready to reforge and advance the department, Darren has come with new ideas and promises to make a splash in the sector.
On 7th September, I caught Darren for a quick chat. We sit in the meeting room of our Leeds office and begin the conversation by talking about his new car. He has a new hybrid – his work involves a lot of motorway travel and this is his first "fuel efficient" car – unable to escape the slight hint that he has an extensive car history. I explain that I want to discuss his story and where his work sits within the insurance industry. To which he immediately begins with his role at Romero Insurance Brokers: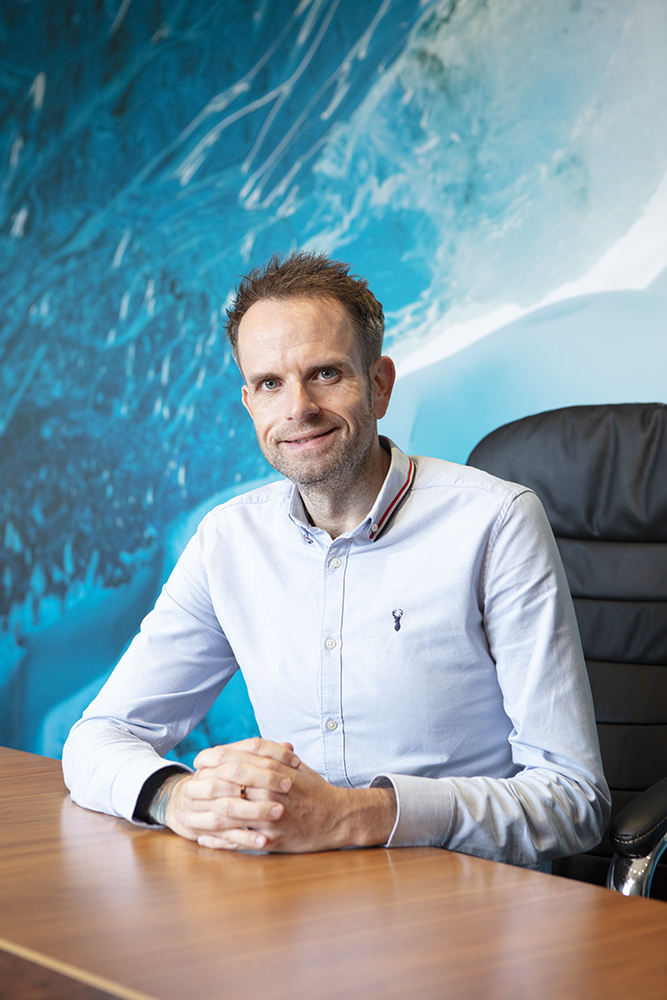 –  Pretty much doing a little bit of everything; it's about helping in all capacities
"I'm Head of Private Clients. I'm here to drive the business forward, manage the team, increase profit, a few things like retention, and just move the department forward basically." Darren talks at five-times the speed of the average person – he's got a lot to say! "I'm here to organise and help rev up the Private Clients department." Throughout the conversation, Darren keeps his eyes fixed on his phone, his thumbs messaging away. The multitasking is impressive.
Next, I ask the question "Why insurance?" and, again, he rattles off his storied history without hesitation: "So I left school in 1998, stumbled upon insurance really – I wanted to do an apprenticeship at the time. I was offered work at my local council and it was paid about £50 a week. All my friends had jobs and were talking about a trip away, and £200 a month wasn't going to cut it. So I was offered a job in an insurance brokerage as an office assistant based in High Wycombe. It was ground up and I quickly made my way into the sales team there. It was mostly high net-worth clients. I did three and a half years there."
"I then moved away to be a sales advisor of insurance." Darren has still not taken a breath and I'm scribbling notes furiously. "Pretty much doing a little bit of everything; mid-term adjustments, new business – just picking up the phones and seeing who's there really, as well as helping in all capacities." Darren now stops as sirens blare past the window, before quickly regaining his momentum.
"After two and half years, I moved onto a broker that had lots of divisions up and down the country. They were later sold to an insurer, making lots of people redundant, me being one of them. From there I went to a specialist retail broker, where we designed a market-leading product. The product was based on an allowance for company cars and car insurance. We worked with multinationals; it took off and kept us very busy."
"But really the last fifteen years I've been specialising in high net-worth insurance. So that's hard-to-place-risks, young drivers and large cars, celebrities, high-end individuals. Over the years I've adapted into sports entertainments, building a book of well known names." From here Darren lists the highlights of his phone book. I sit, open-mouthed, realising this is the first time he's broken stride and is not buried mid-text.
– I wanted to get away from the corporate lifestyle and into a business that was forward thinking and offers the ability to have your own entrepreneurial spirit
"So that's the history of me really" he says smiling. By now I've given up with the scribbled-over notepad, telling him I feel like I've had a rollercoaster ride through his life. "Good job you recorded it" he laughs.
Naturally the conversation then leads onto Romero: "I got to know Simon Mabb (managing director at Romero Insurance Brokers) through mutual connections. We have a lot of mutual synergies and share a lot of the same visions. I wanted to get away from the corporate lifestyle and into a business that was forward thinking and offers the ability to have your own entrepreneurial spirit."
Darren talks quickly, in one great long stride. He's mid-flow and I can't, nor do I want to stop him: "Our vision for the future of the company and the department aligned and we found we shared the same mission, wanted the same things. We just clicked really, and he asked if I'd consider heading up his Private Clients team. And, other than the travel, I didn't have a second thought."
– Computer says yes, computer says no
As we take stock and sip our drinks, I realise Darren has already answered most of my questions in one fell swoop. As he glances back to his phone, I move us on and ask what he would change about the insurance industry: "Ooh, I would lose the direct underwriters on the personal side. I just think what a better way to build a rapport than to have somebody individually look after you on a personalised level – rather than generic computer says yes, computer says no." His Little Britain impression has room for improvement, but the sentiment is strong, it's clear Darren is very passionate about the personal-broker relationship.
– There is a lot of competition, and we are the best of the best
Next, I ask Darren what he would say to any young individuals looking to get into insurance. "Insurance is a legal requirement, everybody needs it, especially on the personal side. We have to stand out – utilising the philosophy of people buy people. We are here to sell a service and anyone young looking to join our team should know there is a lot of competition, and we are the best of the best." Suddenly it strikes me to ask Darren if he were 16, would he want the job he has now – "Yeah definitely", he exclaims, "it's an industry where statistically 3 of 10 policies are incorrect. Why not have somebody that can listen to the clients, understand them, and many of my clients are young adults."
Bringing the Q&A to a close, I ask a final question which catches him off-guard. I ask Darren does he like his job – "What's there not to like?" he answers with a smile, "I'm a car-nut myself. I've driven Ferraris, Aston Martins, Bentleys, Lamborghinis; I've been on lots of different track days so why not insure them. I'm a car enthusiast and I like visiting show rooms. I enjoy selling and I enjoy cars, it's a perfect match."
Thank you to Darren for taking the time out to explore with us his role at Romero.
See our blog for industry news and information on our exciting new arrivals: