Reaching your first 100 days at a company is a big milestone. Upon reflection, it shows how far you've come and how well you've settled in. Although still getting to grips with the processes, in three months you are expected to be comfortable, in a routine, and to start delivering. At The Romero Group, we believe a happy worker is a healthy worker. We want to make sure our recruits are settled in and ready to do their best. 
Our company maxim is to Treat Our Customers Exceptionally, and this promise also applies to our employees. We put a lot of effort into our employee wellbeing, social events and learning opportunities.
We spoke to our group content marketing executive, Patrick Sheerin, about his first 100 days. We asked a range of questions, from the challenges of a new role at Romero, to the social activities he's enjoyed here. Patrick tells all about the his experience starting a career within the Romero Group.
Patrick lifts the lid on starting a career within the Romero Group.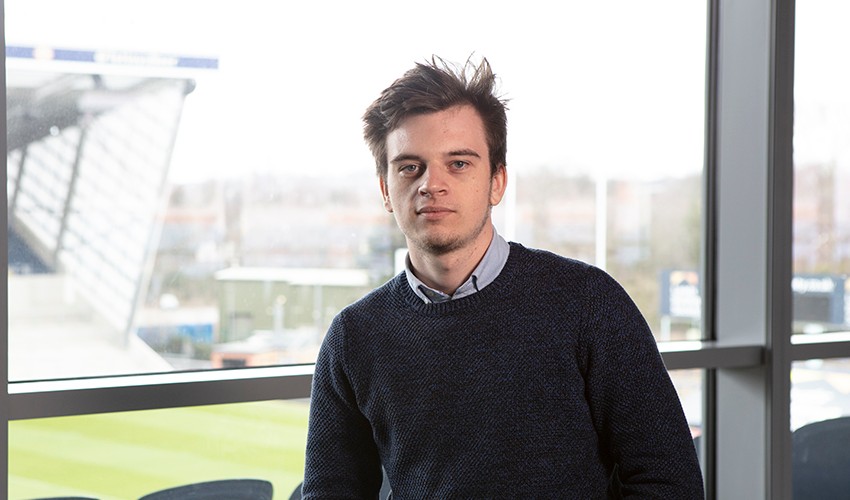 How did you find your first few weeks and what stood out the most?
On the first day of working at Romero, I was introduced to the team. It was easy talking to the guys in branding as we shared common interests and hobbies, and they were interested in my past work experiences. Then I was taken on a tour of the building. Since I'd never worked in insurance, it felt like a very new experience. I didn't know what each department really meant; hearing words like Claims, New business, Existing business. I felt like my Introduction to Insurance seminar was needed and it, plainly yet thoroughly, explained away my worries about working in the industry.
During my first 100 days I also had a seminar with Simon, the managing director, and Justin, our CEO. It was great, in such a large company, to have a 1 on 1 chat with them about the origin of the business and where we are going. They were genuinely interested with what I had to say about the recruitment process and my interests outside of work, it meant a lot to me. It was one of the stand-out moments of my first few weeks.
How have you found the Group's focus on Wellbeing?
I was very pleased to learn about the wellbeing ethic in my first week of working at Romero. It was actually the thing my Mum was most interested in when she demanded a debrief after my first day. Its great to see the company going above and beyond for the staff. I have written on wellbeing and life in the office before, so I grasp the importance of catering to an employee's physical and mental health.
Each department has a wellbeing champion who acts as the intermediate between the team and the We Are Wellbeing experts. I was brought in to replace a staff member in the brand team which meant branding did not have a wellbeing champion, so I volunteered. It was warmly received; I hope to complete my tutoring toward becoming a wellbeing champion soon.
What have you learnt in your first 100 days at Romero?
It was a big learning curve starting out. In my role, you have to learn and understand the content before you can adapt and publish it. Therefore, I had a lot to learn about the inner workings of brokering and the insurance industry. There was a fair amount of content to read in my first few days, alongside the people and the various sites we manage. I was comfortable with the background CMS and processes which helped, and the muck-in-all-together culture gave me a big push to kick on and do well.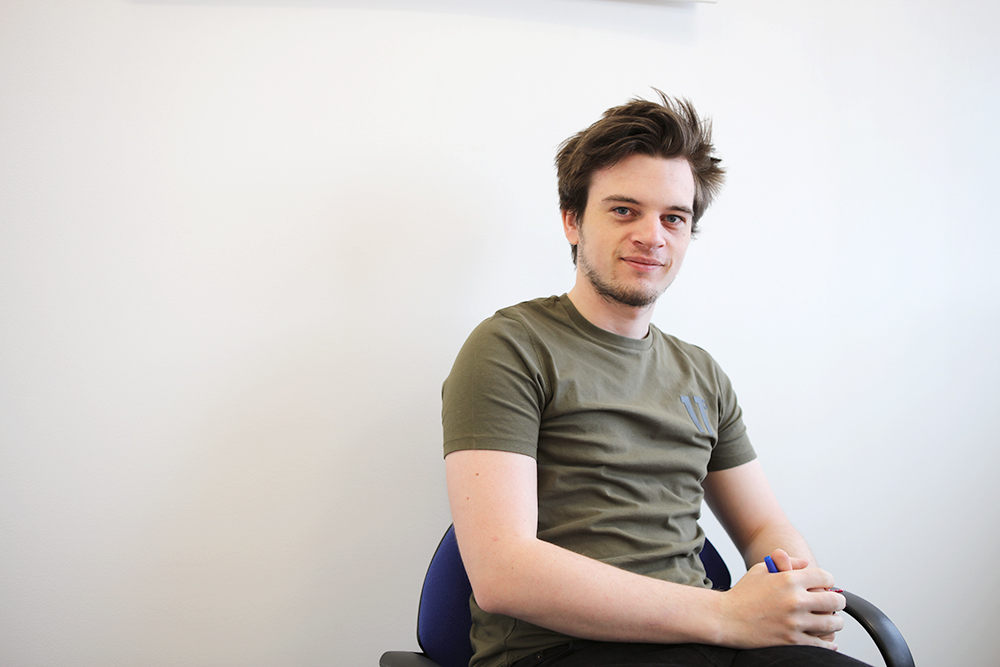 What has surprised you in your first 100 days?
The best and worst thing about working in an office is the people. If the people are not right, it doesn't matter if you have your dream job, it won't be enjoyable. Having had bad experiences in the past, I was anxious on the first day.
Thankfully at Romero, everyone I've met has been approachable, warmly welcoming and friendly. The office also has an abundance of personalities – and since I'm quite outgoing myself, and had prior been stuck indoors for six months – it was great to get to know new people. I feel my role lends itself towards big personalities and effective communication, so I was eager to get to know my colleagues.
I started just two days before Lockdown Part 3 was announced. Most surprising was perhaps the group's positive attitude and preparedness. I did not miss a day of work due to the pandemic, able to come in and, completely safely, continue my role. The office was quieter and there were regular routines to follow, but I still believed I was in a fully functioning workplace – which is important when you first start a new role.
What have you achieved in your first 100 days?
On the first week, new employees take a competence test. This is to show you understand the basics of GDPR and money laundering regulations. Considering on day one I had no experience of GDPR or of committing fraud, the test was a surprise. However, I took the test at the end of the week and, as a bonus, gave myself a little challenge. I now hold the fastest time for successful completion of the test – much to the surprise of our finance manager.
Also within my first week, I shook the trees a little by strongly suggesting a complete overhaul of our Google Ads programme. The team were very accommodating and agreed I could trial my approach over the course of three months which I believe was quite a significant responsibility for a new recruit. Now at 100 days, the Google Ads programme looks very different and has become a permanent and effective form of traffic to our websites.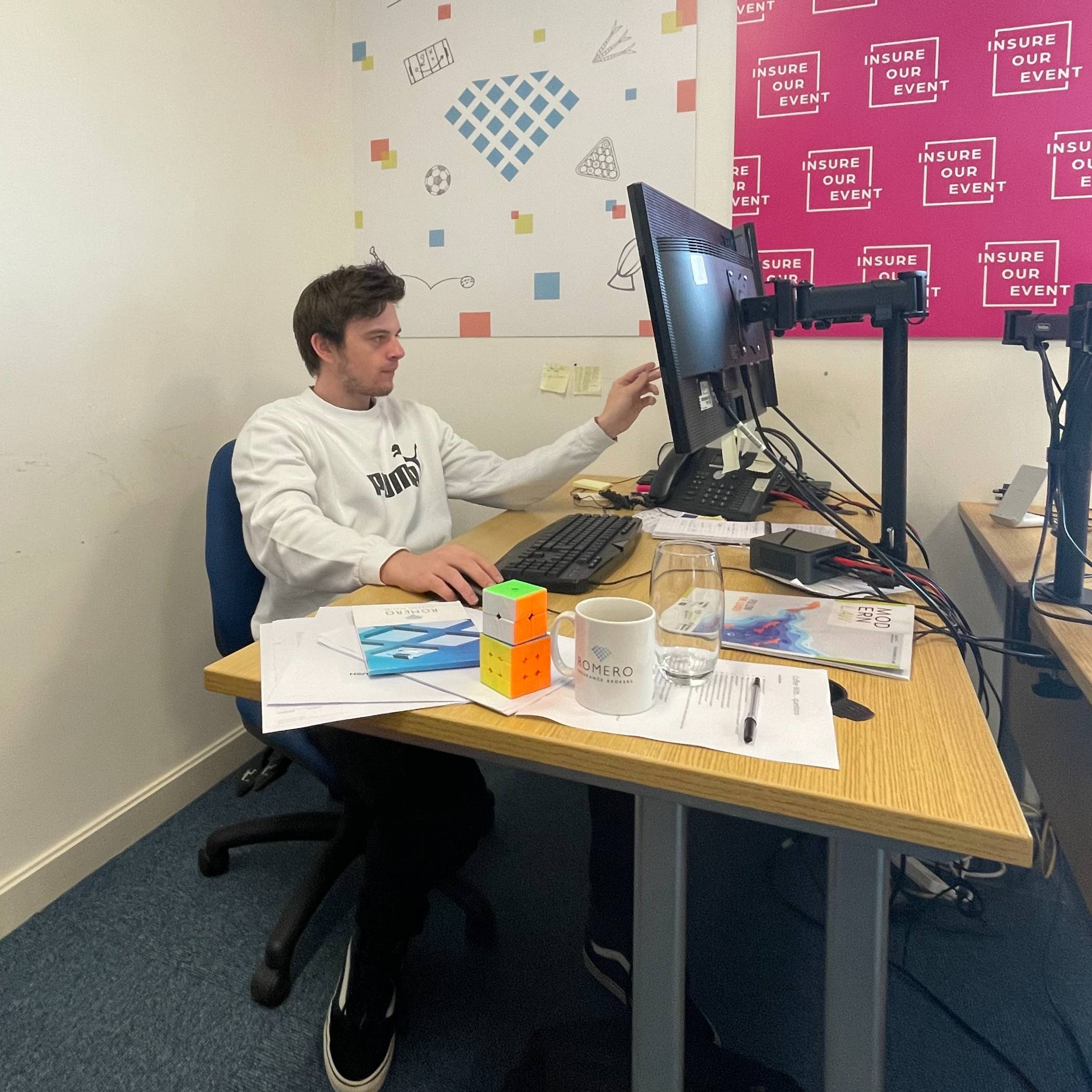 Which social activities have you taken part in?
Thinking on communal activities for the office, I pitched the idea of March the Month. This comprised of a collective from the office each walking 11,000 steps a day over the course of March to raise money for Prostate Cancer UK. The Romero Group has strong ties with the charity and I thought it would be an effective way to raise awareness and funds.
The idea took off and we arranged a step tracker, t-shirts, information guides, and a fundraising page. We dedicated the walk to Club Insure's late director, Lloyd Pinder, who sadly died to prostate cancer. He was an avid Sunderland fan so we planned a virtual route, walking from the Romero Group's offices to Sunderland's Stadium of Light and back.
The charity event was a huge success, raising over £650 and walking a total of 10.4 million steps. We received a commendation from Jeff Stelling, and everyone involved said how much they enjoyed walking for such a special cause.
What challenges have you faced in your first 100 days and how are you overcoming them?
Every day there seems to be another new sector of insurance I need to learn and compress. Because insurance is so wide-ranging, I will never be lost for intricate details and new legislation.
Formulating content for the FCA case was difficult but rewarding. The Romero Group recently won a supreme court case surrounding business interruption insurance. I had a brief meeting with our Claims Manager who ran me through the history and details of the case, which I then transposed for use on the website. It was a very challenging task but after asking for help I produced a clear and informative piece.
What are you looking forward to taking part in during your next 100 days and beyond?
I enjoyed meeting Kevin Sinfield at Headingley and also working with him to recognise the positive effect at Romero. One of my personal heroes, having similar Lancashire roots, it was amazing to here about Kevin's experiences and help to tell his story. In the coming weeks, I will be publishing our work with him, including videos and content. Look out for the Rhino at Romero!
Hopefully soon we will be conducting visitations to Royal Lytham and Royal Birkdale golf courses. As a huge golfing fan and frequent player, I'm very excited to move forward with our golf campaign. I visited Royal Lytham & St. Annes for the 2012 Open where I met Tim Henman (scratch golfer himself) and asked Miguel Ángel Jiménez for his signature cigar. I've never been to Royal Birkdale but I've heard the 17th is a killer. I think we'll be visiting in the near future strictly on business, but it won't stop my excitement.
As I progress in the role, I hope to get better at every aspect of my job and also learn new skills. I love how open the team are to ideas and new projects so it should be an exciting year!
Well done Patrick on completing your first 100 days with the Romero Group, we are excited to see your progress and experience all the projects you have planned for this year. Keep the music playing!