From hospitality management to an office job here at Romero, Matt's enjoying the challenge of a new career!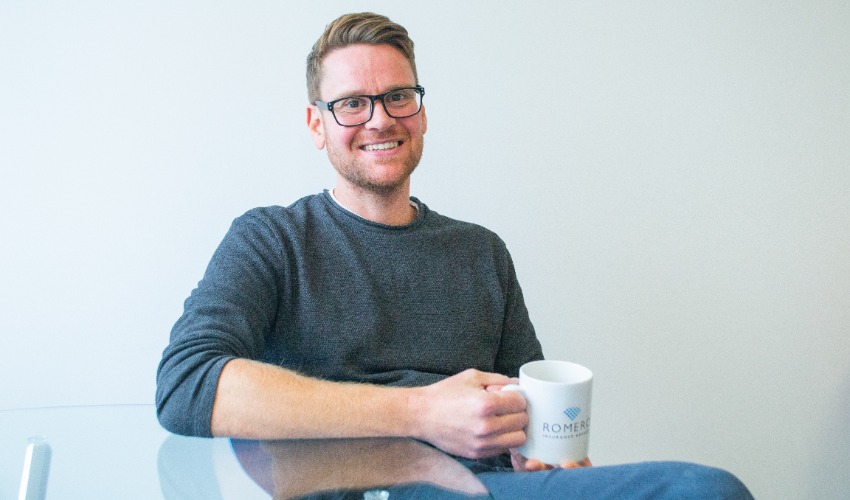 Do you enjoy working here?
Yes, very much.  I've had jobs in the past where I would sometimes dread going into work and would take a lot of stress home with me. That has never been the case here.
What's been your favourite thing about being here?
The people, definitely.  This is my first office job so I was a bit unsure what to expect but everyone is so nice and down to earth.
What have you found most challenging?
I was new to accounts when I joined Romero so it's been a pretty steep learning curve. Two years in I feel like I'm getting there, but I've still got a lot to learn.
If you had to sum up your role in one sentence, what would it be?
Tidying up in the background! We spend a lot of time querying discrepancies between our records and insurer accounts. It's always a good feeling when I get everything matching up and paid.
What has surprised you most about working here?
The focus on wellbeing.  I was a bit wary that office life would be quite impersonal and cold but it's been the total opposite! I never imagined that there would be such a focus on our physical and mental health, it's been really inspiring.
Where are you in 5 years' time?
I'm studying on an AAT Apprenticeship programme at the moment and will be carrying on my studies over the coming years. Hopefully there will be roles at Romero to match my new skills so I can stay here for the foreseeable future.
Where is Romero in 5 years' time?
Even further along on its way to being the UK's number one independent broker. It feels like it's well within our reach with the people that we have here.
Where did you work previously, and what did you do?
I spent 10 years in hospitality management before joining Romero. I used to run The Mustard Pot in Chapel Allerton for five years and then various venues in the centre of Leeds.  I was made redundant by a small chain of bars in 2017 and worked part-time on the deli counter at M&S while studying my foundation accounts course and looking for my first accounts role. One day I got a call from Romero and the rest is history.
What drives you to succeed?
My kids, it's all for them. I want them to have a fun childhood in a nice home with happy parents.
Sum yourself up in 5 words
Not taking everything too seriously.
What's your perfect Sunday?
Up about 8am and go for a run through the woods by my house first thing to get it out of the way.  A chilled morning then Sunday dinner with friends at a traditional pub followed by a walk. Then home for a potter around the house and garden with Test Match Special on the radio.  Kids in bed in time for Antiques Roadshow and a cup of tea.
And I've just realised I'm 70.
If you were a biscuit, what would you be and why?
Chocolate Hobnob because I can handle being in hot water without falling apart.
What's your pet hate?
Negativity and self-pity.  Try not to be defined by your problems, be defined by how you overcome them.
If you were stranded on a desert island and could take one book, one luxury and one song, what would they be?
Book – I love biographies but would get bored reading about one person over and over so I'll go with the old cliché survival manual
Luxury – A large, good quality tent with a hammock
Song – One song? You're killing me! Can I have the Paul Simon album Graceland? Endless happy memories of childhood road trips around Europe with one tape in the car.