What's it like to be a broker in one of Britain's top independent insurance firms?
At Romero Insurance Brokers, we have recently announced the opening of the new Harrogate office. We asked our colleagues, who will now be working in Harrogate, to tell us how they spend their working day. We wanted to know everything, from when they arrive in the morning, to how they organise their diaries, to who they speak to most often.
We asked Annie Young, Louisa Millington and Sue Geary to describe an average day in the Harrogate office. We also queried them on where they were before insurance, how their opinions about the sector have changed, whether women in insurance have found equality, and whether insurance is a good career pathway for young starters.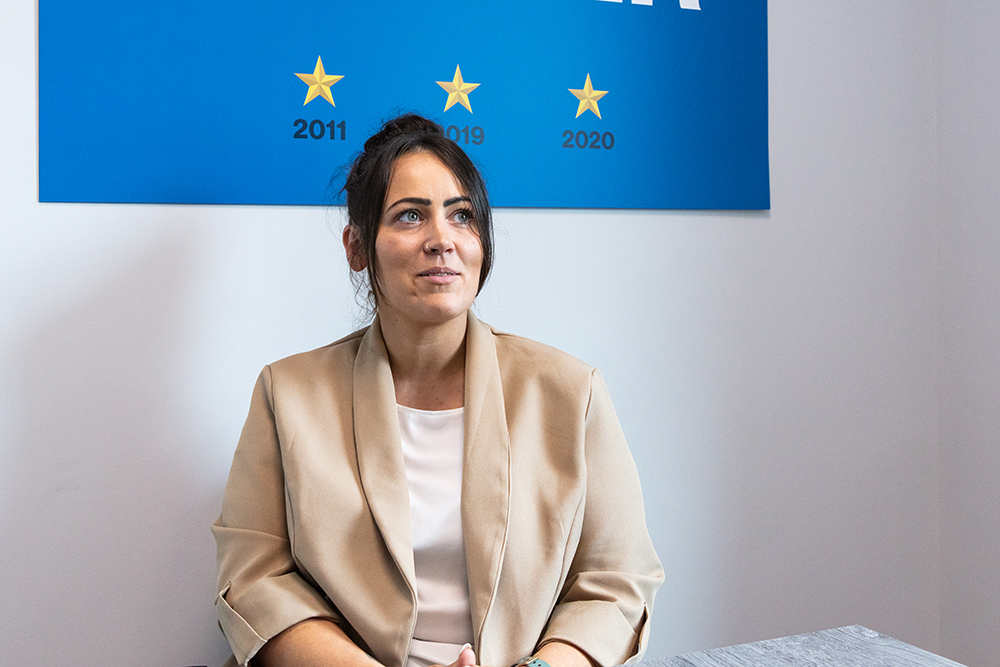 Annie Young, New Business Broker
"What do I do all day? Well, what don't I do! My role is placing business. So, I spend most of the day on the phone, sending emails, preparing submissions to send to market; most of my day is spent speaking to insurers and dealing with Account Executives."
"I deal with all lines of business but only at the new business stage. New leads come to me and I work on formulating a market strategy with an Exec; I often review the covers and I'll give feedback. I work with some of the more junior members of staff – advise them on what markets to approach, assess what they've done and see if there is anything that they've missed."
"I started out in insurance nine years ago. I'd always worked in sales and telesales before that, but I was desperate to get a job at an insurance company in Harrogate. I applied three times for different departments but kept getting knocked back. I eventually started renewals, learning the ins-and-outs of breakdown insurance as well as pet insurance. And about six years ago I came to this very office into a commercial insurance broking role but for Aon, Henderson Insurance Brokering Group. And I'm approaching my two-year anniversary with Romero Insurance Brokers next week."
"I made the move because there was a lack of support and foresight at my past employers. I was complimented on my work when I met with the directors at Romero Insurance Brokers, which meant a lot as I'd obviously heard about Romeros – how well-respected they are in the market. And ultimately I was happy to change over and progress with them."
"My day to day involves managing the new business process and winning new business. I try to support the Execs to allow them to do what they need to do. I also provided conceptual reviews of insurance portfolios – it's very technical, my role. It involves identifying client risk exposure and coming up with solution for them."
"The difficult part of my role is managing people and getting to a solution everyone agrees on that each party feels the benefits of. I can easily hit 50-60 phone calls a day. Not being able to speak to people over the phone as much during lockdown was very difficult – most of my role is communication; there's a necessary skillset that's quite sales-y, and then a lot of background knowledge needed."
"So that's my job in a nutshell really. I can't say I start my morning with a Red Bull and a Crunchie, can I? It's because I literally don't get chance to breathe. I'm straight on the phone, reading emails – I've usually had ten missed calls an hour into my day, and I'm normally juggling quite a few different cases at once."
"I enjoy the pressure; I know it sounds bizarre but its true. I definitely work better under pressure otherwise I'd just get bored. I enjoy getting a deal over the line and knowing that I've been a focal point. I also enjoy all the interaction as a team and achieving our desired result together."
"I actually love it at The Romero Group because it's an independent and I like the fact that the CEO, Justin Romero-Trigo, knows exactly what's going on in his business. There's a really good team around me and it feels like a big family. I think we have to work hard, but we are rewarded well."
"When I first started in insurance there was a disproportionate amount of men to women in senior roles. Coming to Romero Insurance Brokers as a Broker, I felt it was a huge achievement as I was the only female Broker I knew. I think women are viewed as not being able to execute the more ferocious roles. It was fresh to come to The Romero Group, impressive to see how women are taken seriously here, not seen as less knowledgeable or unable to handle pressure. Women need to make themselves available, but that's definitely changing with the younger women coming into insurance."
"Insurance: It's hard work but it's really rewarding. There's so many avenues to explore, no day is the same. Many people didn't intend to be insurance, they fell into it, but they stay in it for a reason. It's a rewarding career that you can get really far in if you work hard and dedicate yourself."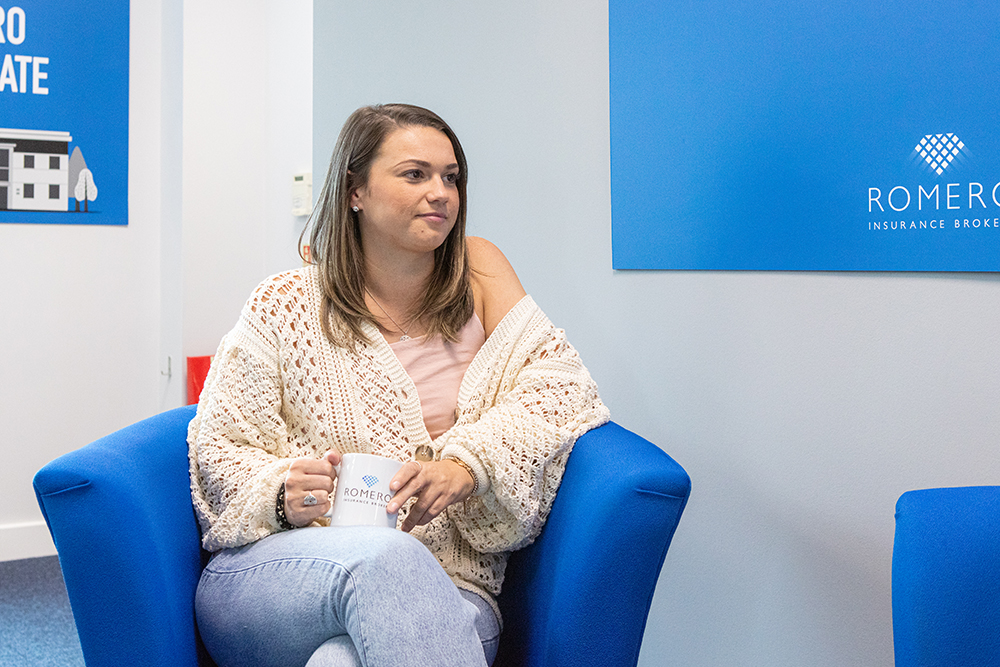 Louisa Millington, Broker in the SME department
"My mornings are busy! Waking up really early, I normally read, often travel-blog books, sometimes a bit of yoga, meditation, or sometimes I go to the gym for a spin class. As soon as I get into the office, I'm on the phone, either talking to clients or to Account Execs. There is no break and it's a rush all year round. And if I'm ever not busy, I lend a hand to the Brokers and Account Handlers in the department."
"My role is as an SME broker. I deal partly with Execs, partly I am the handler on the case. I speak to a lot of my clients on the phone directly. A lot of my clients work as tradesmen, sole proprietors, construction operators, property owners or with motor fleets. Generally, they have a smaller turnover than large organisations and so are labelled as a small or medium-sized enterprise (SME)."
"I do quite a unique 360-role as a broker; I am first point of contact for the client but also I am the end point, managing everything from pre-renewal, terms, broking, chasing instructions and finalising. Normally we would have a team of experts for a new client, but for SMEs who do not want nor require that high a level of attention, often I can sort everything on my own. My role is quite independent despite how cooperative we are in the office."
"The benefit of operating this way for SMEs is that they receive an appropriate level of attention. I find many SMEs do not need an exceptional amount of contact, they'd rather have one person to do their insurance and then to no longer worry about it. With us and with me, they still receive the same high-quality service as they would with a large team, I think everything is faster and more efficient this way."
"The benefit of operating this way for me is that I am 100% responsible for the SMEs book at Romero's. It also means I'm more specialised and knowledgeable about a specific area of the vast insurance sector: SME policies. The client then gets to know me and any feedback, positive or constructive, is directly relevant for me."
"My previous role wasn't too distant; I worked in recruitment. But I was living with a friend who was working in the insurance sector, and the career pathway and prospects looked perfect for me. I was also friends with Annie Young who brought me to The Romero Group, and now I'm so happy that I work with her in the Harrogate office."
"I couldn't list the responsibilities and variety of tasks I have in a day as they are endless. Talking to medium enterprises over the phone takes up the main part of my day. Each SME's policy is tailored and unique, meaning every day is different. And if my knowledge is lacking in an area, Annie will help me. The jargon of the insurance sector can get complex and tiresome, it's one of the challenges of working in this industry."
"There are a lot of women in higher positions at The Romero Group. It's odd because I'd say 90% of the underwriters I speak to are men. This fact, I think, is actually to a woman's advantage, not a disadvantage. Therefore, I would say women should actually go for their dream role in insurance – be ambitious."
"Working in an insurance brokers is, I think, a very good career ladder to be on, mainly because of the relationships and the knowledge that you build up. There are such diverse roles here, no day is the same, and individuals can develop their skillsets quickly. The pathway upwards is clear and I think the prospects, especially at Romero, are exceptional; ideal for someone who wants to get into the insurance sector."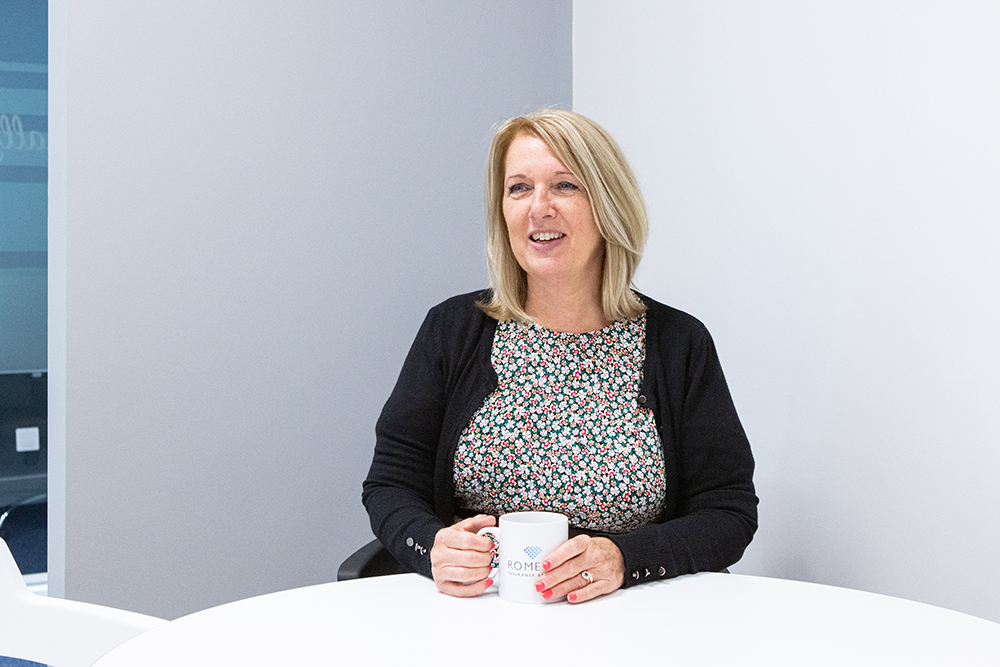 Sue Geary, Account Director
"Before joining Romero Insurance Brokers, I was employed by Henderson Insurance Brokers, now Aon UK and actually worked in our new Harrogate office prior to Aon not renewing the lease, so it's exciting to be back in familiar surroundings! It's also good to be back in an office environment with colleagues as I didn't enjoy the experience of working from home during the pandemic."
"Romero Insurance Brokers has given me that opportunity, to continue working in a positive collaborative environment, and within the same premises no less. We quickly found at the Harrogate office that we are all early birds – must be something in the water! I usually arrive around 8:15am, with coffee taking priority and then checking emails."
"My role involves managing an existing book of client accounts plus handling new business prospects. Over the last 16 years or so, I have specialised in the Commercial Property Owners insurance sector – comprehensive Real Estate cover – having been involved in the insurance programme for one the main towers at Canary Wharf. I am often required to support colleagues on large property owner risks, including reviewing programme design and assessing international risks."
"I often arrange a time to meet with clients where we run through pre-renewal information, review renewal terms, or just to have a catch up to help maintain a good relationship. Meetings are conducted via Microsoft Teams or, preferably, face to face. I attend executive meetings on a regular basis, linking in with directors Paul Judge and Simon Mabb periodically. These meetings are a great chance for us to review our new business progress, our main competitors and internal team updates."
"Fortunately, at the Harrogate office we have a couple of mobile barista coffee vans which turn up during the day – they help the workday fly by. I dread to think how much I've spent over the course of a week. We also have Betty's Tea Rooms nearby if we are tempted by the odd Fat Rascal for lunch."
"A significant part of my role involves having the opportunity to mentor more junior Account Executives and Brokers, it's an area where I take a great amount of pride. I have been in the insurance industry for 35 years; any knowledge I can pass on hopefully will help to develop the next generation of insurance experts."
"So that's more or less a full day for me – a brief overview of some of my responsibilities and movements during an average day. Finally, I lock up the office and then enjoy the scenic drive home."
"My advice for any individual looking at going into the insurance sector is that there is definitely success to be found at a large growing organisation like The Romero Group. There exists a great career pathway for young people, as mentoring and shadowing experienced individuals is encouraged. The Romero Group is diverse and inclusive and is, I believe, the ideal environment for individuals just starting out in insurance."
Thank you to Annie, Louisa and Sue for sharing with us their lives working for a top independent broker.
If you would like to learn more about Women in Insurance, read here.