Georgia is our new assistant broker at Romero Insurance Brokers.
With over nine years of experience in the insurance sector while still in her mid-twenties, Georgia is an insurance phenomenon.
But what does our shining star get up to when she's not talking to clients and smashing her targets?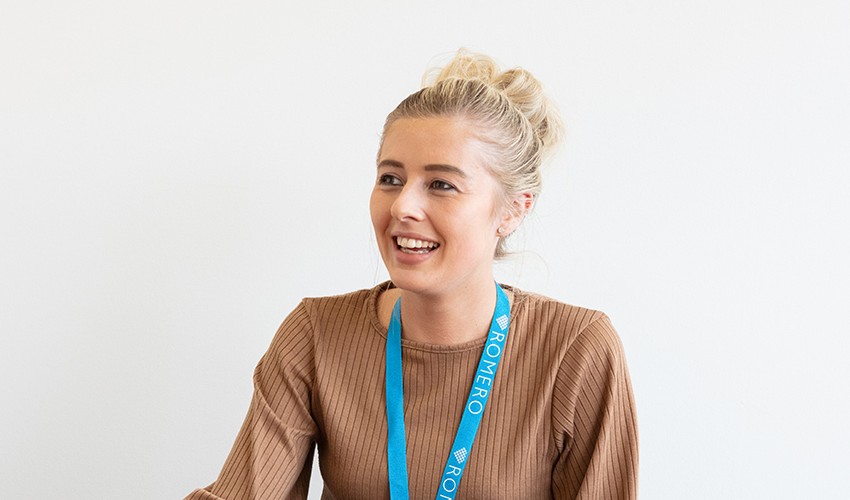 What is your job role?
Assistant Broker for the existing business team.
Where were you before Romero?
I was account handling for fleet policies at a brokers in Kirkstall, Leeds previously. The responsibilities I had were similar to those I have now at Romero; meeting clients expectations and needs, providing a good level of service, building strong relationships.
How did you start out in insurance?
I've been working in insurance for 8-and-bit years now. I went to college and did a business-admin course, and as part of that you do an apprenticeship. The course involved working four days a week at an insurance brokers in Bradford. I enjoyed my time as an apprentice in the claims department, and when that finished I decided to stay in insurance.
I sent my CV off and found work starting on reception as an admin assistant. Soon after, I moved up into being a claims handler for about four years. Then I was broking as an account handler for probably around three years, and recently I've made the jump to Romero.
What attracted you about Romero?
I wanted a new challenge and saw a good opportunity at Romero which couldn't be missed. I felt I needed a new opportunity, just a change really, and when I came into the office everyone was so welcoming. Anne Marie and Carolyne on the front desk were lovely to me – I think they realised how nervous I was.
I was impressed to be met in-person with a director of the company, Joanna Pullan. I was expecting the interview to be really formal, but it was informal, nice and relaxed. I had also worked with a few of my new colleagues before, which always helps, and I had to asked them about the dress code. I definitely prefer working in more casual clothes, I think it creates a better working environment.
What are the elements of your job you enjoy which others wouldn't necessarily know about?
I enjoy dealing with clients, especially new clients. There's a lot to learn at Romero and I can definitely see myself learning and developing over an extended period of time; though saying that, in just under the two weeks I've been here, I've learnt so much already!
They've got me straight into training for my CII with Alan Hornby. I'm happy Romero are so keen to see me develop – the company attitude just makes you want to learn, and they always offer the right training and support.
What does the future look like for Georgia Richmond?
Eventually I'm looking at developing to an account executive role, because I know there is an executive development programme at Romero and I would certainly be supported. I want to take inspiration from Joanna, follow her footsteps as a little bit of a role model, and continue on my career pathway.
What biscuit would you be and why?
My favourite biscuit is a digestive biscuit with the caramel filling. Everybody likes a caramel biscuit and it's a little bit different.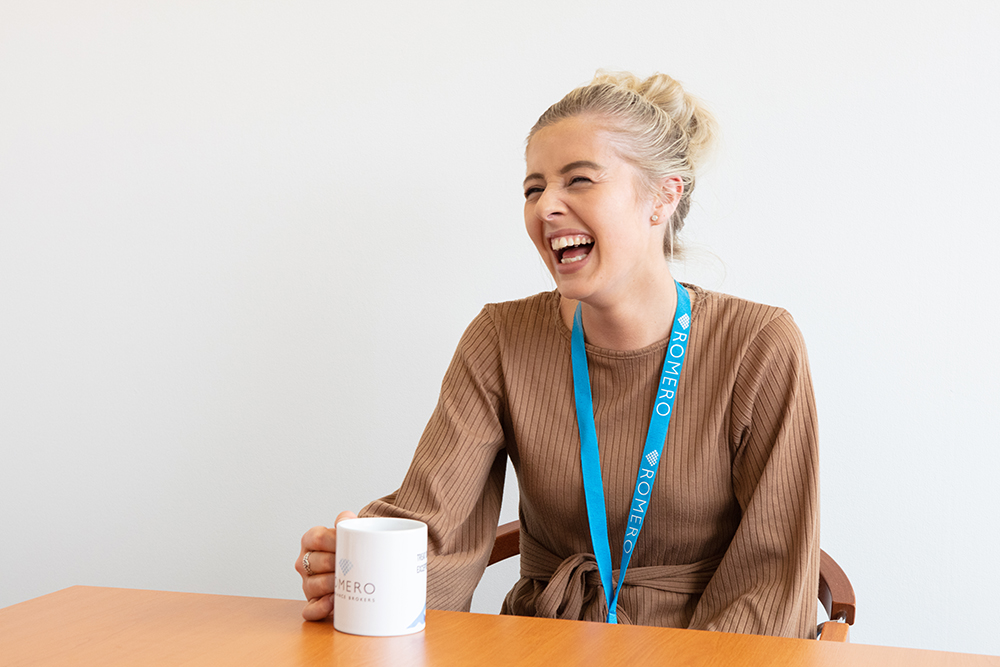 What motivates you and drives you to succeed?
Having an end goal in sight and making sure my career is a success.
What was the last movie you paid to see?
I haven't been to the cinema in years… I went with work to see Fifty Shades of Grey…
Who is your hero?
Kalvin Phillips.
How many pets do you have?
I'd hoped you'd ask me this. I've got a bit of a zoo.
I've got three cats: Tallulah, Romeo and Bambi. A bunny rabbit called Bertie (previously called Betty before taking him to the vets and being told he's a boy). I own a horse called Timewatch who is stabled in Horsforth, I've had him since I was 14. He kept me out of trouble and now I visit him every night. I actually entered us both into a dressage competition at Cookridge not long ago. I was so nervous but Timewatch remembered the steps and we placed first! Not bad for an old race horse. I was also gifted two piglets from a farm in Otley, they're called Peppa and Piglet.
What was your first job and how old were you?
I worked in a sandwich shop from when I was 14 right up until going to college. I needed money to buy horsey-things and the owners of the shop were family friends. It was a good little Saturday job, I really enjoyed it.
What's your go-to music?
I like RnB as well as Bugzy Malone (the Manchester rapper not the musical). I'm also really into my house music, and old music as well… 80s music, I love Blondie. She's playing in Leeds next year and I'm excited to go see her.
What makes you really angry?
If I hear people eating. Especially crunching crisps.
Do you have a favourite holiday destination?
I love Amsterdam. Last time I went was 2019 and I took my sister. There's so much to do there; art galleries, museums and the Heineken experience… And its only forty minutes on a flight.
Would you rather have more money, more friends or more time?
Either more money because I want to buy a house. Or more time which I would probably spend with my horse.
Sum yourself up in 5 words.
Positive. Helpful. Motivated. Reliable. Equestrian.
Do you play an instrument?
No. I used to play a bit of violin when I was younger.
What's your favourite sport to watch and to play?
Football, I'm a Leeds fan. It was like a law in my house growing up, we used to have season tickets. My dad is a lifelong fan and for his birthday I bought him a personalised stone at Centenary Square.
When my sister came back from university, she brought her boyfriend who we found out was a Manchester United fan and my dad was livid. He hung up a Leeds United scarf above the bed and said no rival memorabilia was allowed in the house.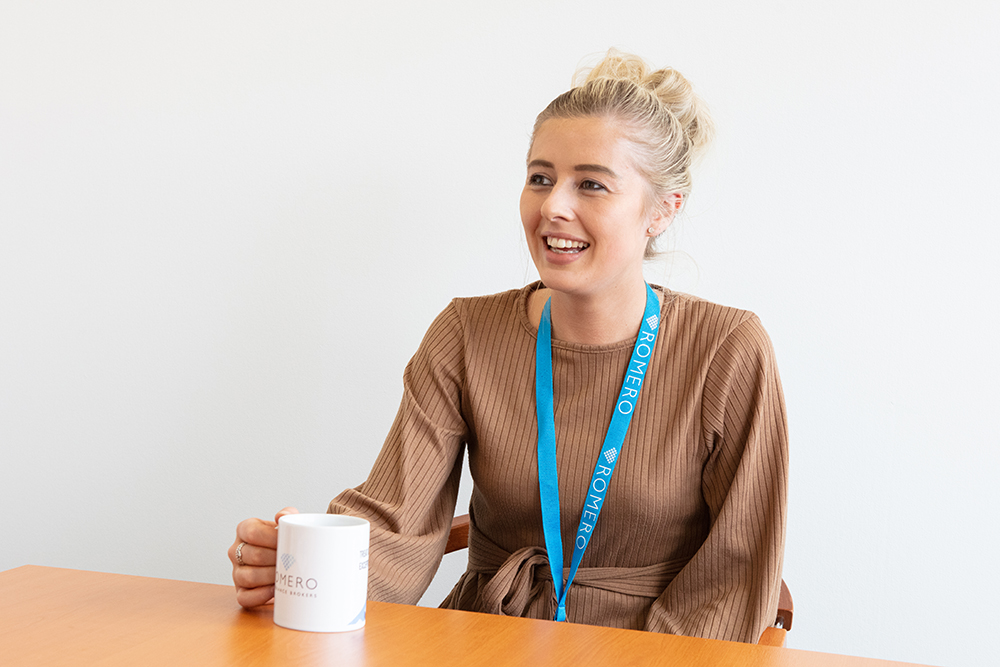 What's your guilty pleasure?
Garibaldi biscuits, and liquorice.
What was your favourite tv show 20 years ago?
The programme with Pippin the dog and the woman in the aeroplane… Come Outside. They used to play us it in primary school and we'd learn about how pencils were made.
What TV show would you suggest to others?
Orange is the new black.
How do you take your coffee?
Milky with two sugars. They tried to wean me off sugar at my old work and it never worked, I knew when it wasn't sweet enough.
If you were stranded on a desert island and could take one book, one luxury and one song, what would they be?
Book = Mrs Hinch's Journal
Luxury = Red Bull and a chocolate bar
Song = Heart Of Glass by Blondie
After discussing everything from career pathways, to how many pets is too many, to whether Blondie can be really classed as 80s music; it's clear to see that Georgia is already enjoying her time at Romero Insurance Brokers.
When she's not going above and beyond client expectations and developing her skill sets, she's tending to Timewatch and casually winning local dressage competitions. We are so excited to have Georgia in our team to help spur the company forward.