Mya is our Accounts Assistant at Romero.
She has just turned 22 and we sit enjoying coffee and birthday cake, joking that "it's not all that bad " working at an insurance broker.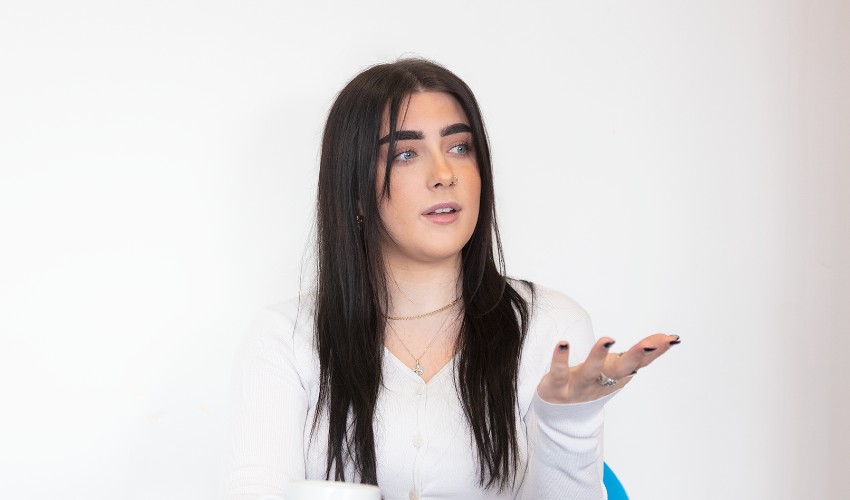 How long have you been working at Romero?
I started with Club Insure on the 27th of February last year (2020), and then I joined Romero in June.
Where were you working before?
I was working for a courier company, organising the parcel delivery. Before that I was not too far from here actually (The Romero Leeds offices), working at the WHSmith in Leeds/Bradford (airport) organising the magazines. Oh, and I did medical science in college, sorry, forgot to mention that.
How did you fall into insurance?
Everyone says they fall into insurance, however I already knew Romero was a good place to work as I'd heard from a friend so I applied for a job here.
What made you want the position initially?
I wanted something more excitable… exciting… excite… more interesting! The role is challenging and different every day. But it's a good challenge, I didn't want something that doesn't challenge me.
Have all your hopes and dreams about the role come true?
Whether people think it's too corporate or not a good work environment – Not true. How ace is it in accounts! I'm chatting to customers and the others (colleagues) all the time and it just feels good.
What has struck you about the environment at Romero?
Diverse personalities. Have you been downstairs? (Club Insure offices) Its bustling, talkative, its great; that's where I started. Its quieter upstairs in Romero, but still chatty and a good place to be. I prefer it… don't tell them I said that.
What would you say to someone who's just started out or has never been in the Romero offices?
Don't listen to the stereotypes about working in insurance, they're not true. Experience it for yourself.
I think its nice to see so many women in positions of authority at Romero. It makes a change because in the past I've only ever had male managers. Inspiration? I take inspiration from both male and female leaders.
And for the question we are all eagerly waiting for: If you were a biscuit, which biscuit would you be and why?
Caramel digestive. Why not? They are just really yummy.
What is your perfect Sunday?
Cup of tea. In bed. With my current book – I'm reading Ember Queen (by Laura Sebastian) at the moment.
Coolest thing you've owned?
My moped. It's a white AJS Modena, 18 plate, I bought it new. Its called Babe. (For those who it may concern, sadly Mya has since sold the moped to buy a car. It now belongs to a grandmother who bought it for her grandson; she misses Babe dearly.)
Coolest thing you've never owned but always wanted?
A holiday home, probably in Japan. I'm really into Japan; I've got a tattoo, a Japanese leg sleeve, of a geisha girl which took six hours. They can be a bit misconstrued; they are a Person of Art.
Dancefloor Diva or Wise Wallflower?
Wise Diva.
Are you a member of any clubs?
No, umm nothing, no.
Are there any personal projects or areas of self-growth you are working on at the moment?
At the beginning of the year (2021) I made a mood board. It's got things to help me physically, mentally and emotionally. I've placed it in a position so that every day when I get up I see it. This year I want to run a 10k, try to be mindful and meditate more.
What could you give a 40-minute presentation on with absolutely no preparation?
Every single word in the Nightmare Before Christmas (film by Tim Burton). Even the songs, and there are a lot of songs.
Do you cook?
I do but choose not to, if I had to make you something now… Strawberry scones.
Any Romero-organised social events you took part in recently?
I went to the accounts' Christmas do, but I've not really been able to because of COVID, but I've heard great stories.
What's the farthest you've ever been from home?
Greece, I'm not very well-travelled. I'm going to Iceland again in December to see the ice crystal cave.
How has working at Romero changed your impression of work in general?
Well, work is fun at Romero. Romero showed me work can be fun.
If you were stranded on a desert island and could take one book, one luxury and one song, what would they be?
Book – Ash Princess by Laura Sebastian. That's the first one in the series, I'm reading the third one now.
Luxury – A tent. Can't think of anything worse than insects crawling all over my skin.
Song – Life is a Highway by Rascal Flatts.
If you pass through accounts, watch out for our resident ex-biker and Tim Burton fanatic Mya.
If you catch her at lunch, she'll be the one within the pages of her next book, thinking about what's on Disney Plus in the evening.
She finds work fun and diverse at Romero and is secretly hoping someone will set up a fundraiser for her honeymoon trip to Japan.